10 MUST KNOW TRENDS FOR FUNCTIONAL FABRICS S/S 2021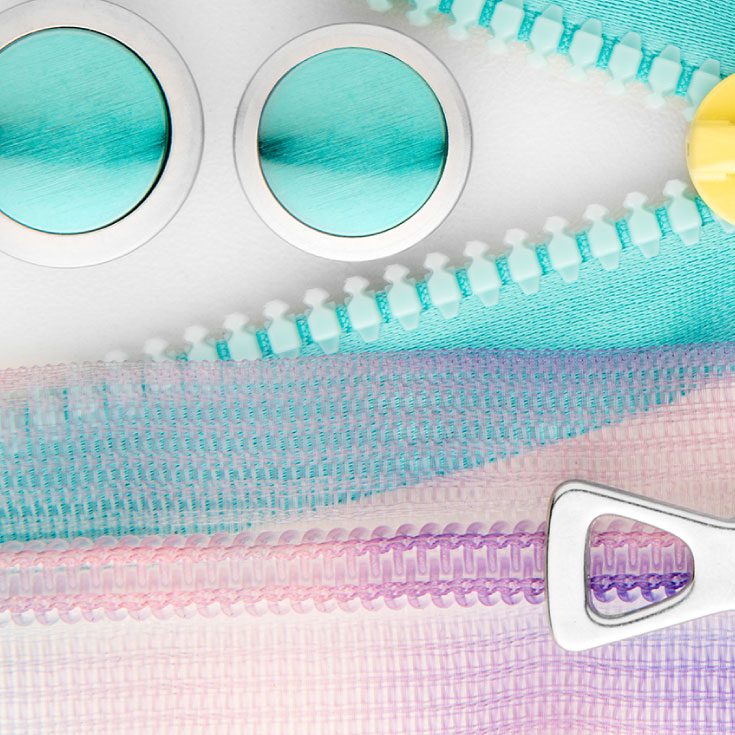 THE BEAUTY OF FUNCTION
10 must know trends for functional fabrics S/S 2021 at PERFORMANCE DAYS in Munich
It is inevitable to deal with the topic "The beauty of function", the focus of functional fabrics S/S 2021, seen in Munich May 2019.
We know how much fashion and function emerged together in the last years:
the athleisure trend brought performance wear into the office which made daily office wear sporty in a smart and cool way
as a result of this trend fashion brands starts to integrate functional details in their collections
for many seasons e.g. the fitness brands have been toping each other with a wide variety of detail solutions, especially reagarding to the tops, prints and fabrics; far too beautiful to be worn only during sports.
sports brands pick up more than before fashionable styles and casual looks which was obvious at last ISPO in February 2019.
LIFESTYLE WEAR IS THE NEW FUNCTION

There is a big demand now for a functional garment appearing cool and stylish and so appealing to be worn as everydaywear:
Clothing that reflects an active lifestyle and combines the aesthetics of fashion and functional clothing
Functional properties as for example comfort, waterproofness and clima regulation are not enough anymore for functional wear of the future: beauty through fashionable shapes, nice graphics and irresistible fabrics must be added to attract the consumer
In my " guided tour + " with this topic I selected four suppliers with stylish and highly innovative products -Tintex, Isko, Woolmark Company and Pioneer Elastic – to demonstrate the beautiful mixture of fashion and function.
Guided Tour + at Performance Days May 2019.
FUNCTIONAL FABRICS S/S 2021
The functional fabrics S/S 2021 show a big diversity in performance, surfaces, hand feel and graphics. Most of the fabrics are multi-functional and offer
moisture management

odour control

quick-drying

thermo regulation


UV protection

sustainable production or biodegradability
BUT HOW BECOME FUNCTIONAL FABRICS STYLISH AND FASHIONABLE?
They adopt fashion trends but use functional details as beautiful design feature at the same time: e.g. laser cut punch holes or  geometric prints with cooling effects.
I picked up 10 trends depending on the fashionable and aesthetic appearance of the fabrics.
10 MUST KNOW TRENDS FOR FUNCTIONAL
FABRICS & TRIMS S/S 2021:
1. DENIM
Festival charme – denim shades – quilted patchwork – frayed edges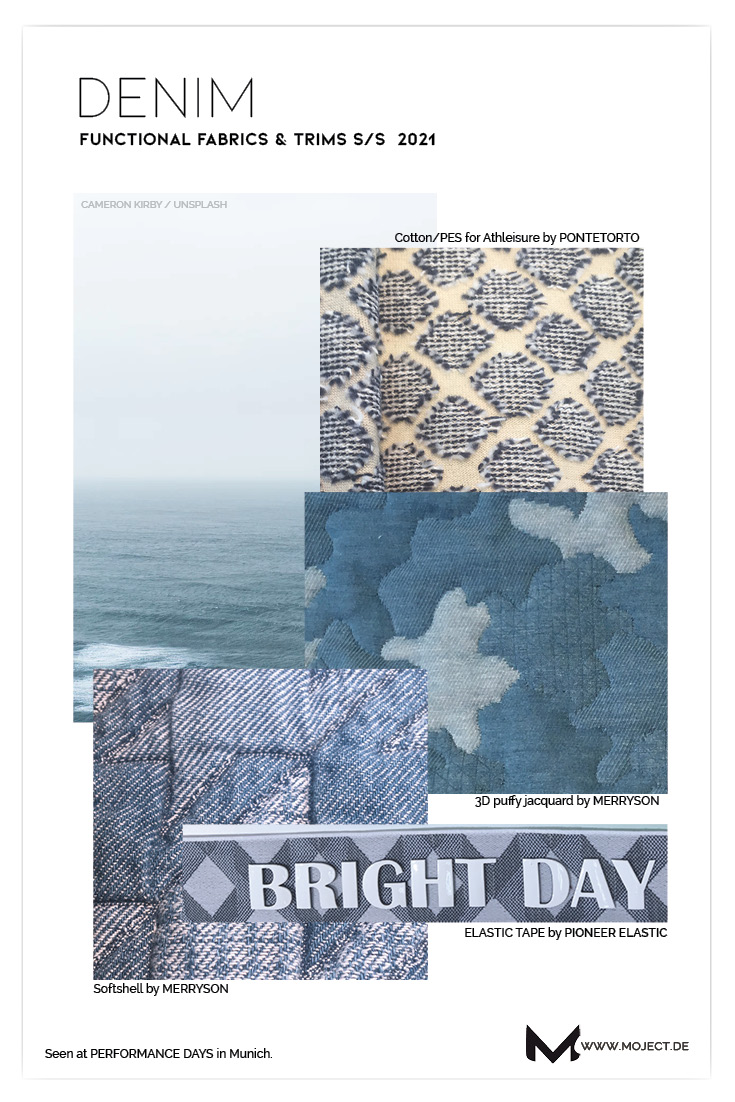 2. DRY & CRISPY COTTON
French terries – double face with contrast terry backing – dry touch – athleisure styles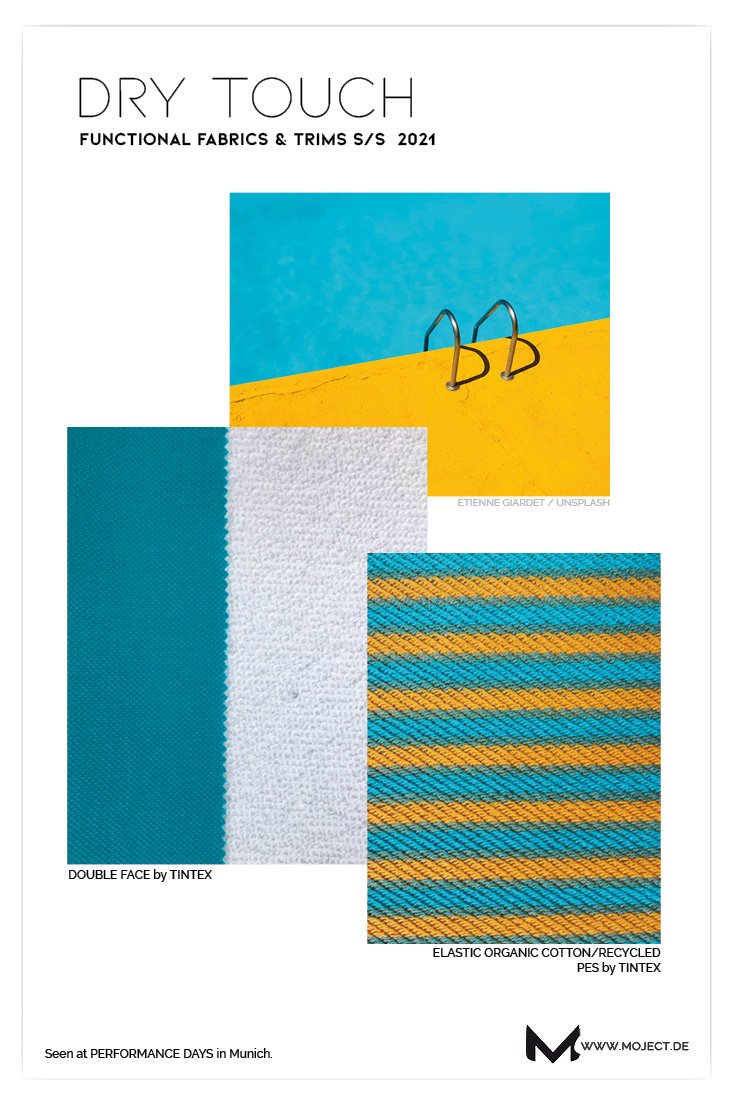 Fabrics: TINTEX . Click on company link for further info.info.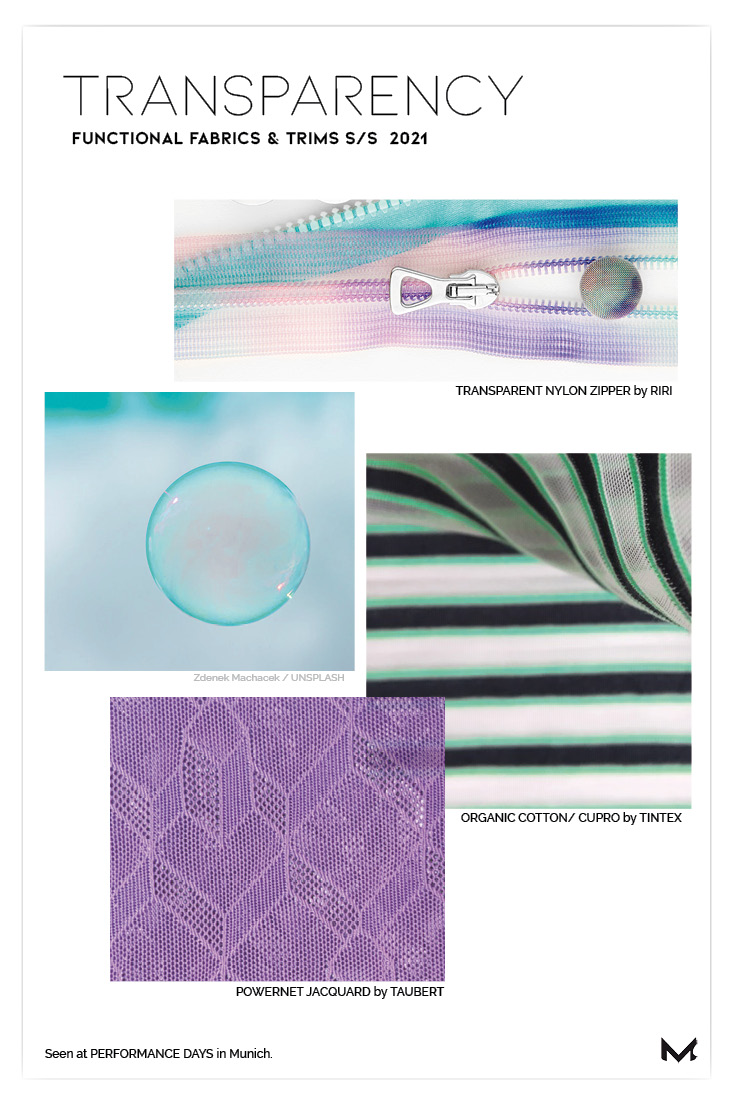 4.GEOMETRICS
prints with thermo regulating effect – embossed surfaces – mathematical patterns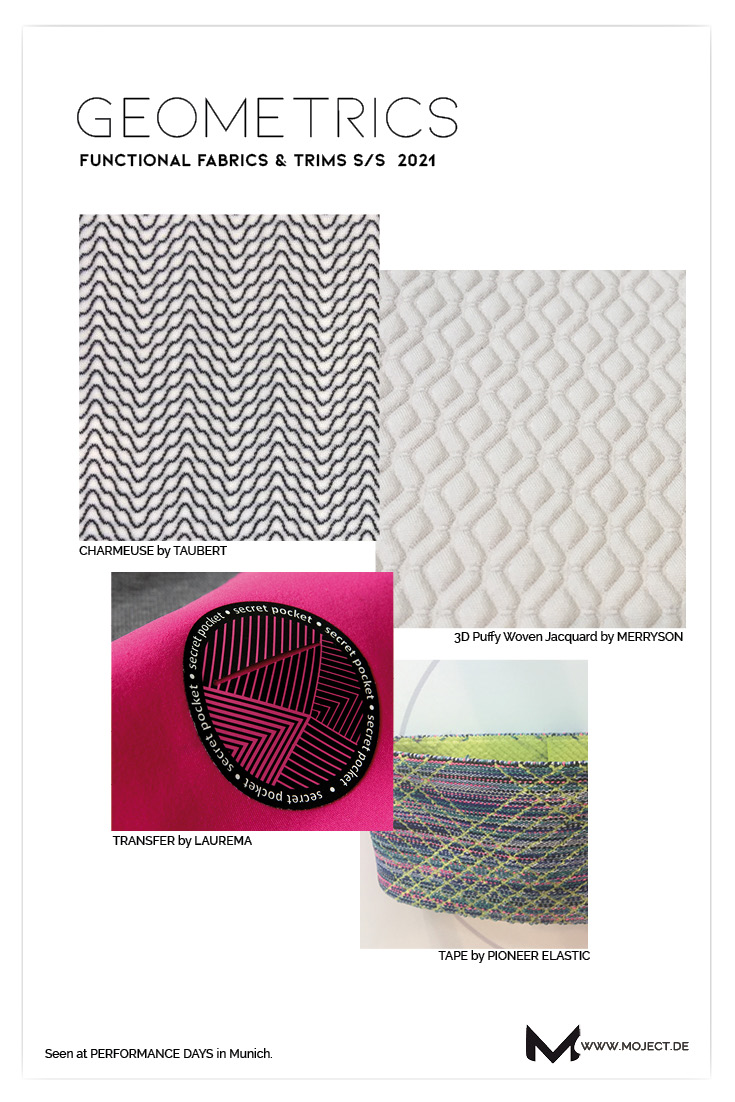 5. Breathable
3D warp-knit technology – laser-cutted punch-holes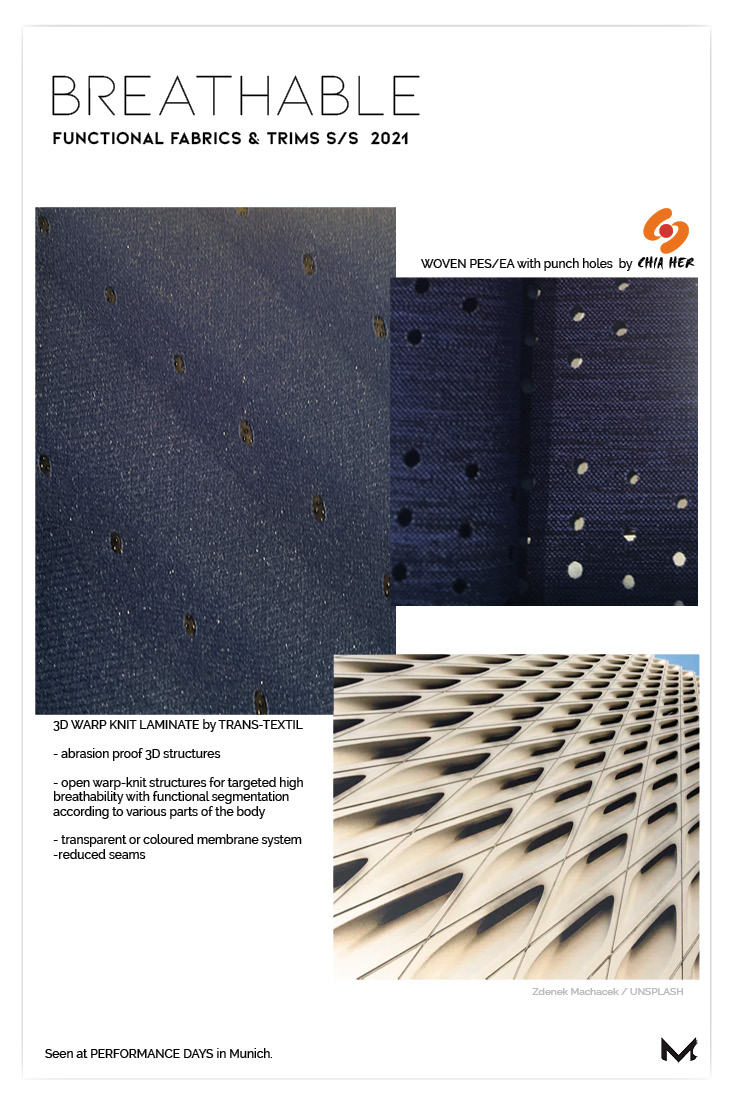 6. Multi-colour effects
ribbed multi-coloured midlayers – iridescent surfaces & prints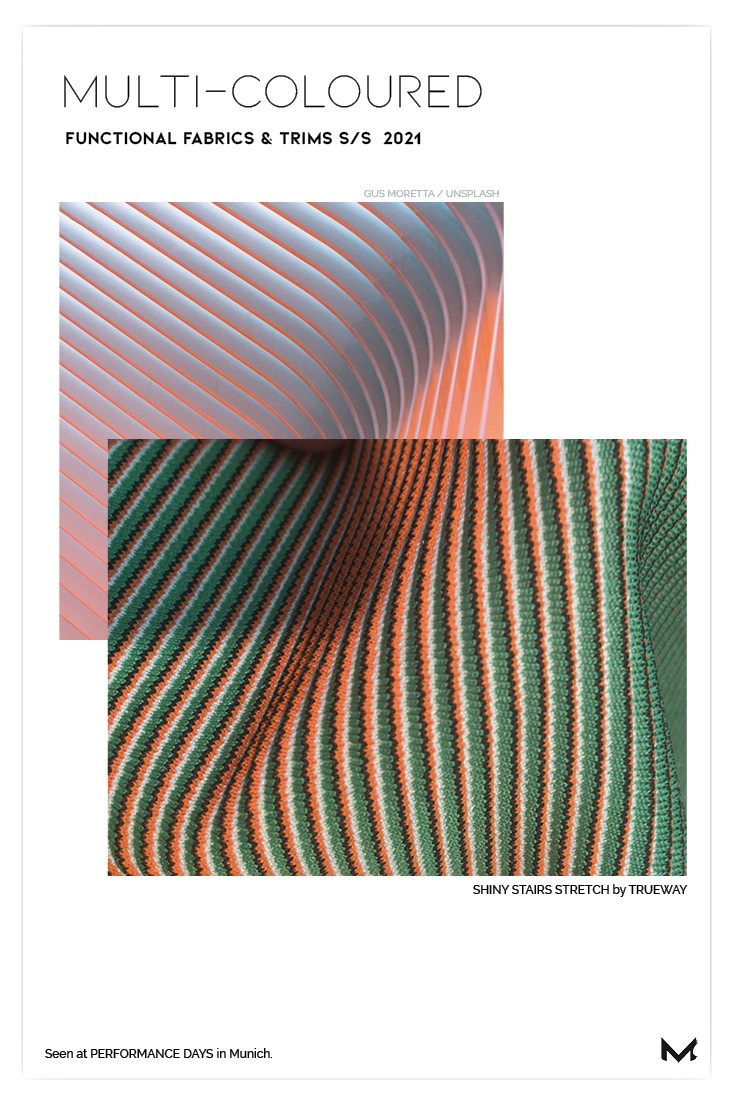 Fabric:  TRUEWAY . Click on company link for further info.
7. Jacquard mania
geo-inspired jacquards –  – stitch free quiltings – 3D jacquard knits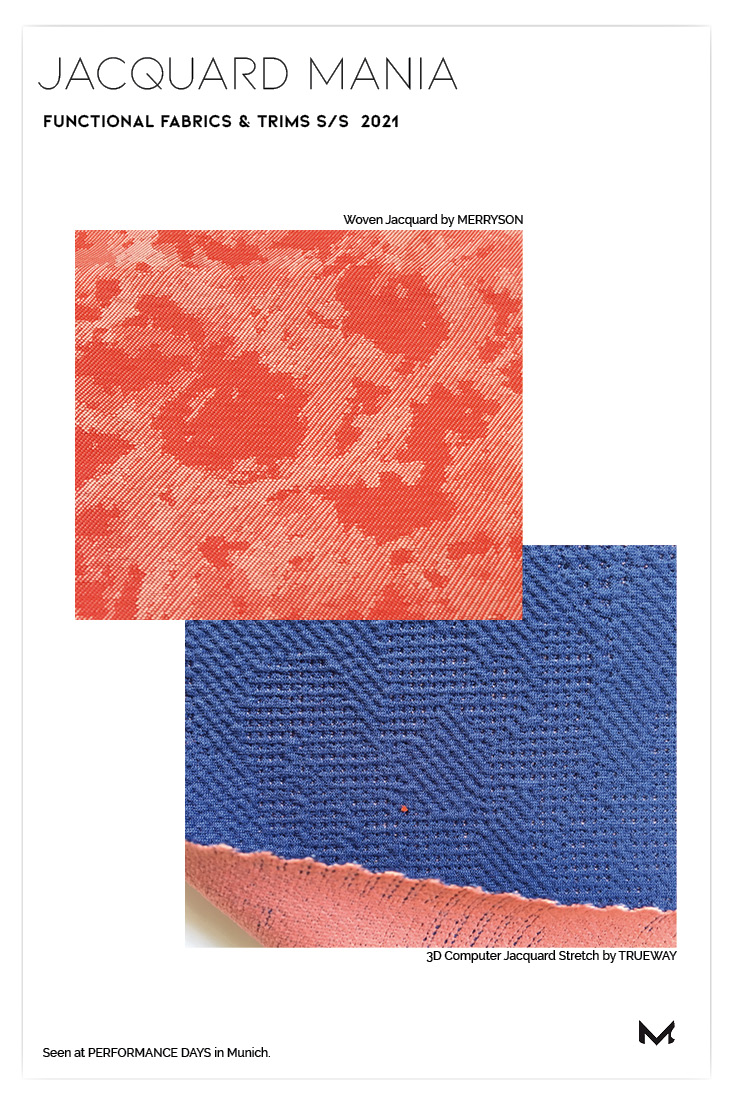 8. EXOTIC BIRDS
brilliant colours -exotic birds – jungle motifs -photo realistic fur prints
9. GLAMOUROUS SHINE
wet looks – ultra-light weight metallic foil – multicoloured shimmer -futuristic
10. CRUSHED & CRUMPLED
80ies inspired – crincled surfaces or backings – paper touch
Stay one step ahead and g

et your free dose of inspiration.

Want to be the first to hear about my new trend reports, design inspirations and trendbooks? Sign up for my newsletter to be in the know about activewear.