PANTONE COLOUR OF THE YEAR 2020: CLASSIC BLUE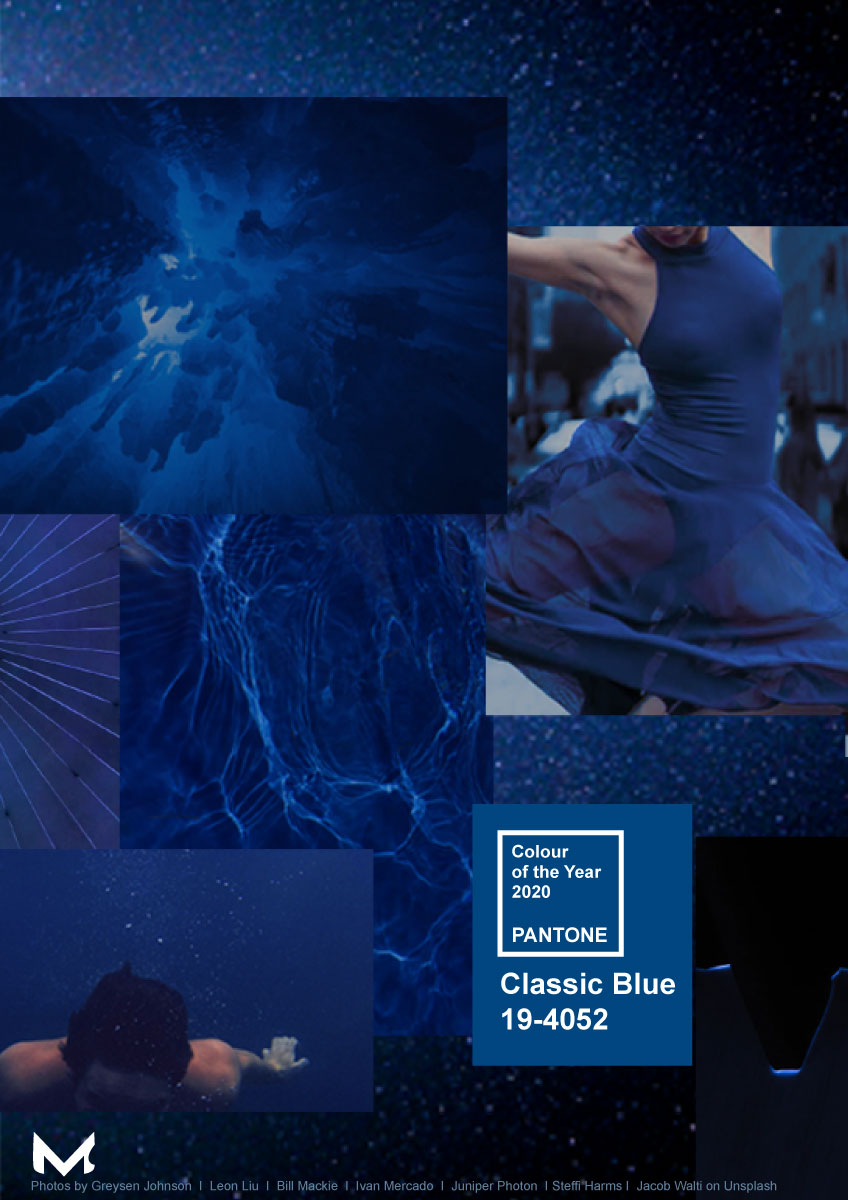 Colour mood 01/ 20: Classic Blue is Pantone colour of the year 2020
19-4052 Classic Blue is dedicated as Pantone colour of the year 2020. It stands for elegance, peace and tranquility , is timeless and brings clarity in our thoughts.
"Imbued with a deep resonance, Classic Blue provides an anchoring foundation. A boundless blue evocative of the vast and infinite evening sky, Classic Blue encourages us to look beyond the obvious to expand our thinking; challenging us to think more deeply, increase our perspective and open the flow of communicaton."Leatrice Eiseman, executive director of the Pantone color institute.
As shown in my moodboard classic blue represents for me the depths of the ocean and the magical evening sky.  This is a colour with infinite combination possibilities, which is well-known as colour for specific sports such as team sports, horse riding or tennis. Together with fashion colours or as technical fabric, it looks very modern and cool.
What is Pantone?
It`s a color system for designers and manufacturers worldwide, the network covers more than 75 countries. It contains more than 2300 colors. Easy selecting and communicating by their special Pantone-number simplify the work between designer and manufacturer.
There are tow color systems: one for fashion & product design, one for print and packaging design. Each system has its own book and guide on paper. For fashion are the colors also available on cotton and nylon.
Pantone Color list of the year 2016 – 2019
Since 2000 the Pantone Color Institute selects a colour of the year. Trend experts check new trends all around the world. Influences can come from art, fashion, all areas of design, traveling and socio-economic conditions. Also new technologies, materials , social media are important for choosing the colour of the year.
Check out this overview of the last selected colors !

This might also be inspiring for you:
Stay one step ahead and g

et your free dose of inspiration.

Want to be the first to hear about my new trend reports, design inspirations and trendbooks? Sign up for my newsletter to be in the know about activewear.